Regular price
$11,595.00
/
---
In stock, ready to ship

Inventory on the way
The GIGA X8c allows JURA to demonstrate Swiss innovation and professionalism down to the very last detail. The JURA GIGA X8c accommodates a capacity of up to 200 cups optimal for businesses, cafes and offices. The machine impresses users with its quality, functionality and reliability. Coupled with top performance in every respect, this results in a high-tech automatic coffee machine that is ideally tailored to exceed all demand.

Built for maximum performance
The GIGA X8c is the completely new generation of automatic coffee machines for professional use from JURA. It is outstanding in every respect and is more professional in 4 different ways:
Completely new inner workings of the GIGA X8c mean that is now more robust, efficient, intelligent and even easier to service.
The dual spout is designed with the needs and requirements of professional users in mind.
The dishwasher-proof drip tray can easily be removed and cleaned with one hand.
The touch display is intuitive and simple to operate.
Features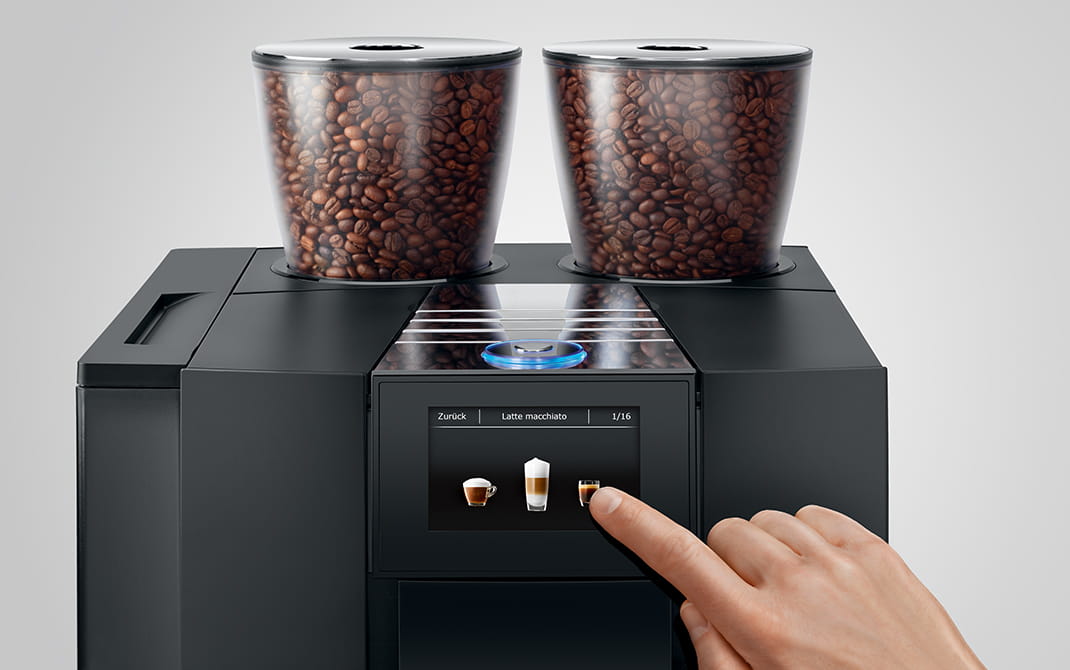 State-of-the-art Technologies For Perfect Enjoyment
It's all inside the new GIGA X8c: Two high-performance ceramic disc grinders guarantee reliable grinding results for many years which are sure to be precise, consistent and even. A top innovation provides that extra special something: A.G.A.© (Automatic Grinder Adjustment) – the electronically controlled automatic readjustment system. The Pulse Extraction Process (P.E.P.®) ensures the optimum extraction time for short specialties and delivers a more full and bold taste profile for ristretto and espresso.
The GIGA X8c features a sophisticated height-adjustable dual spout, which finishes off-trend specialties with milk and milk foam to perfection thanks to fine foam technology. The speed function ensures specialty coffees in record time.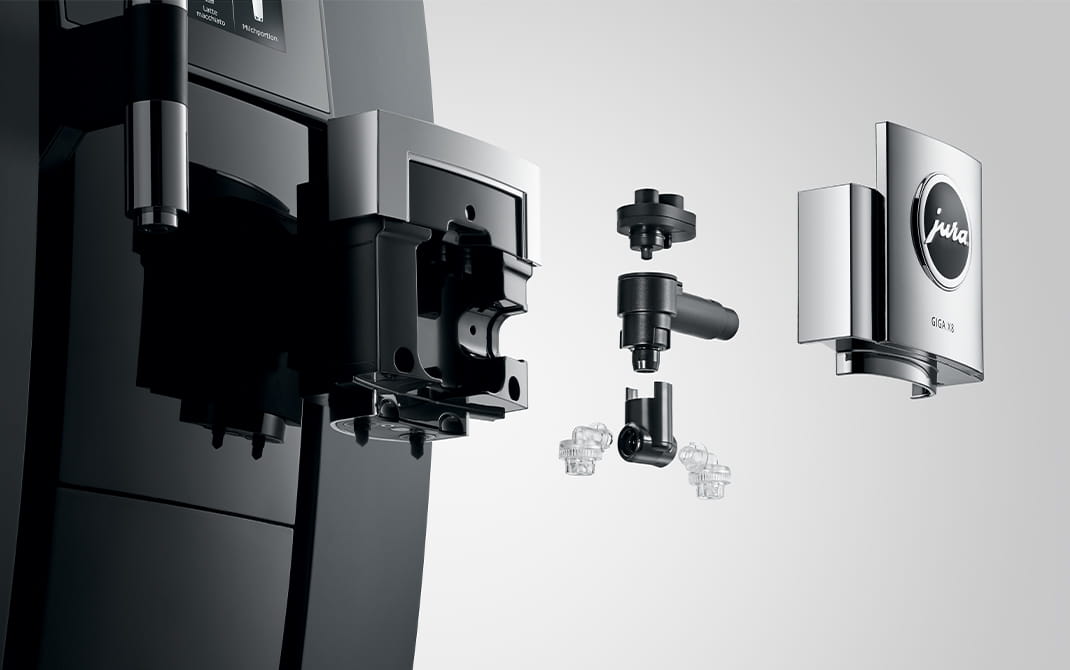 TÜV-Certified Hygiene guarantee
The maintenance of the new GIGA X8c is just as straightforward and intuitive as its operation. Original JURA maintenance products and integrated rinsing and cleaning programs ensure TÜV-certified hygiene at the touch of a button. The fully automatic milk system cleaning process is started with a touch on the display and ensures perfect cleanliness. The solid dual spout can be dismantled in just a few easy steps. The milk spouts at the front are readily accessible and easy to replace if necessary.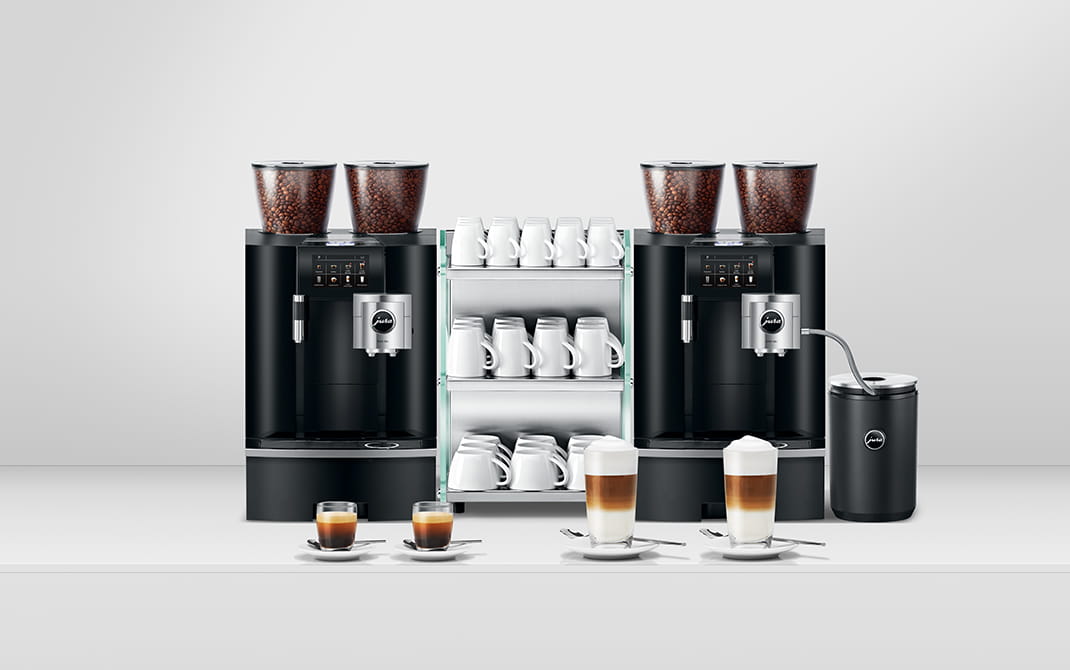 As Individual as your Requirements
Whether operated as an individual automatic coffee machine or enhanced with suitable accessories such as cup warmers or an accounting system, for example, the GIGA X8c can be used to configure the perfect complete coffee solution for any application. It can also conveniently adapt to increasing requirements.
Specifications
Technical Specs

WxHxD (cm)

32 x 56.5 x 49.7

Weight (lbs)

41.9

Power (Watts)

2700 Watts, 10 Amps, 50 hz, 220~240Volts

Parts & Components

Display

4.3" High-Resolution Touch Screen

Water Tank Size (L)

2.6L

Height Adjustable Spouts (cm)

6.9 - 15.9

Grinder

Dual Electronically Adjustable Ceramic grinders

Fresh Bean Capacity (g)

650 per hopper, 1300 total

Pump

2 x 15 Bar

Number of Thermo-blocks

2

Grinder By-pass

Y

Dedicated Hot Water Spout

Y

Optional Water Line Connection

Y - fully integrated

Consumption

Recommended Daily Servings

200

Programmable Products

32

Ristretto

Espresso

Coffee

Cappuccino

Caffè latte

Caffè Barista

Lungo Barista

Espresso doppio

Macchiato

Latte macchiato

Flat white

Portion of milk foam

Portion of milk

Special coffee

Pot of coffee

Hot water

Hot water for green tea

Hot water for black tea

Ground coffee

2 x Ristretto

2 x Espresso

2 x Coffee

2 x Cappuccino

2 x Caffè latte

2 x Caffè Barista

2 x Lungo Barista

-

2 x Macchiato

2 x Latte macchiato

2 x Flat white

2 x Portion of milk foam

2 x Portion of milk

2 x Special coffee

-

-

-

-

-
Official Canadian Distributor
Free Coffee With the Machine
For over 25 years, Faema Canada has proudly served as the official Canadian importer and distributor of JURA Elektroapparate AG.

JURA stands as the unparalleled global leader in crafting super-automatic coffee machines for both home and professional use.

At the core of the brand's philosophy is a commitment to employing top-notch materials and state-of-the-art technology.

JURA's mission is to create coffee equipment that not only excels in performance but also showcases impeccable aesthetics. Their machines are designed to provide fully customizable beverages, effortless usability and maintenance, and consistently deliver the perfect cup every time.
As the official Canadian Distributor, Faema Canada provides full in-house service at our stat-of-art National Service Centre located in Mississauga, Ontario.
All new professional Jura machines come with a 1-year parts and labour warranty and includes service calls to customer's location.
Faema strives to provide its customers with the best value & price. We guarantee a price match to any offers advertised online by authorized Jura dealers in Canada.